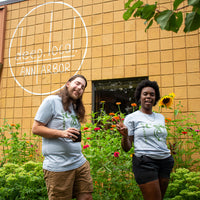 Coffee with Cream Screen Printed T-Shirt
Product Info

How do you take your coffee? Are you a coffee with cream or a cream with coffee type of person?

This baby blue, screen printed tee shirt is open to all interpretations. Featuring original artwork by John Roos and screen printed in house by our in house team of screen printers. Like all our shirts, this is a limited edition print. So go grab one and rep the Roos while representing your preferred method of beverage enjoyment.


Artwork by John Roos.

Screen printed in house.

Material: 100% organic cotton.

Color: Light blue base color with green paint.

Care Instructions: Toss in the laundry like usual!