human beings @ 734-222-9202
new! sunrise to sunset gift box: for a balanced lobster butter diet.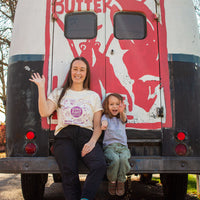 Deep Local Ann Arbor Kids T-Shirt
Product Info

Ann Arbor born and raised? Now your mini-me can rep their deep local roots too! This soft and colorful shirt is screen printed in house, as always. Featuring that classic deep local Ann Arbor design. It's the perfect t-shirt for you or a kid you know to wear all summer. 

Original artwork by John Roos.

 Screen printed in house, by us!

 Color: Grey with blue ink

Material: 100% cotton

Style: neck ribbing, side seamed, double needle hems

Care Instructions: preshrunk knit to minimize shrinkage, wash as normal according to care instructions!